Premium Granite Cornhole Boards
Handcrafted for You by Vermont Artisans

The GCC Vision
In 2020 Granite City Cornhole was created when a gathering of friends got together for a game of cornhole. The idea of producing hand-crafted granite cornhole boards instantly became our mission. Our boards are made with high-quality workmanship, crafting exotic granite quarried from around the world. Our focus is to provide the cornhole enthusiast, who appreciates both nature's beauty and human craftsmanship, with a superb product. We are very selective in the granite we choose to make our boards. We select granite with exquisite detail, complexity, color and patterns. In addition to being sculptures on your property, these boards are durable and resistant to harsh weather allowing them to remain outside year round.
The GCC History
Granite City Cornhole is located in the Green Mountains of Vermont. The granite boards are meticulously handcrafted by multi-generational stone cutters in small granite sheds in and around Barre. The granite industry began following the Civil War with small stone sheds opening up in the Barre area around 1880. Barre is considered to be the "Granite Capital of the World" and is proud to have its own Barre Gray Granite. Barre granite is a Devonian granite pluton in Graniteville and Websterville. Barre Gray is a fine granite, composed of quartz, feldspar, and mica. The mica is both muscovite and biotite.
Our Products Are Made in Vermont
Granite City Cornhole offers twelve granite varieties for you to choose from. Granite is an igneous rock which was formed hundreds of millions of years ago from scorching magma buried deep within the earth's crust. The magma is a molten mixture of elements and gas. The hot liquid cools and solidifies. The combination of heat, pressure, and cooling crystalized the elements into minerals. The element and mineral composition determines what color the granite will be, each with its unique individual complexities.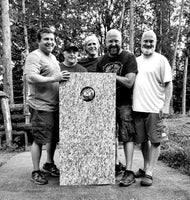 We Look Forward to Hearing From You!